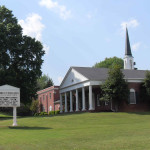 WE WOULD LOVE TO HAVE YOU WORSHIP WITH US – but not right now. We take your health and safety seriously. During this time with the Corona virus, we have suspended all of our public worship and meetings. YOU CAN JOIN US ON LINE. Click on the link below for our most recent worship service. You can find other services under the "Worship" tab.
Our ministry team is available to assist you.
Please call the church office at 731-668-5209
July 5, 2020 Worship Service: "Jesus Will" Romans 7: 15-25
Weekly Worship & Study Schedule
Sunday School – 9:45 PM
Sunday Worship – 11:00 AM
Wednesday Bible Study, Meal and Activities (click for more info)
Child Care Provided for Worship Services.