We are so excited to be worshiping together in person!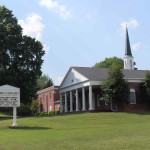 During this time of Covid uncertainty, we are taking your health and safety seriously. We want our church to be as safe as possible while we adapt to life in a public health crisis. For this reason, we are asking that you wear a mask and practice social distancing.
"Enter into his gates with thanksgiving, and into his courts with praise: be thankful unto him, and bless his name. 5 For the Lord is good; his mercy is everlasting, and his truth endureth to all generations." Psalm 100:4-5
If you are not able to worship with us in person we would like to invite you to worship with us online. Our services are being live-streamed each Sunday at 11 AM. You may also watch it as a taped delayed video later Sunday afternoon.
Click here for our YouTube site: https://www.youtube.com/channel/UCE1nojEqPYYKwNlcS45zqPg
You can find a library of past services under the Worship tab.
More than anything, we want you to know that WE ARE HERE FOR YOU. Please don't hesitate to call our ministry team if you need assistance, prayer, or just a listening ear.
Weekly Worship & Study Schedule
Sunday Worship – 11:00 AM
Watch as we post more worship and Bible study opportunities